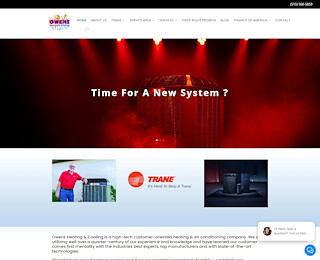 Don't wait for the heating season to hit before you contact Owens Heating & Cooling for a heating repair near Ames. Once the temperatures start to plunge, our technicians are busy working on residential and commercial heating systems throughout the winter. If you noticed efficient operation last year and are looking to beat the crowd, call our technicians to perform an off-season tune-up or make repairs to your heating system and you'll be ready for the cold nights that are just around the corner.
Call Us For Routine & Emergency Heating Repairs
At Owens Heating & Cooling, we take a great deal of pride in being able to offer our customers outstanding service and value. If you need one of our technicians to come out after hours, give us a call at 515-370-5303 and we'll be right out to take a look at your heating system. Don't let the fact that it's dark out keep you from reaching out to us for an Ames heat pump repair; we're always ready to respond to late night calls regarding heaters and HVAC systems.
Affordable Heating and Cooling Repair in Ames
Unlike other HVAC contractors in Ames who want to replace your heater at the first sign of inefficient operation, we'd rather take the time to troubleshoot the problem and determine whether an affordable repair can restore efficiency- our customers often tell us they appreciate the option of a money-saving repair. If another heating tech has advised you to replace your entire heating system, contact us for a second opinion; we may be able to provide a cost-effective heating repair near Ames.
Superior Heating & Cooling System Knowledge
Experience is something that comes from many years working in a single industry; after many years in the heating and cooling sector, we're able to quickly diagnose and repair all types of heating and cooling systems and give our customers an exceptional peace of mind that the job is done right the first time when they choose us as their repair company. Whether it's an Ames ductless heater repair, a heat pump upgrade, an HVAC tune-up, or a furnace repair, know with certainty that we are perfect for the job at hand.
When It's Time to Replace
Ames, IA heating service and maintenance can keep your system operating efficiently for many years, but eventually there will come a time when you'll need to replace an older system with a new one. When that time arrives, we can help you apply for financing a new heater or HVAC system, so you can have your system installed today and pay for it over time.
FAQs- and Answers
Spend a few minutes on our website checking out our credentials and resources, visit our popular FAQ section, and get in touch with our team if you need a heating repair near Ames. Don't forget to look into our Fixed Right Promise to better understand the kind of service you can expect from us when you make us your heating and cooling company.